Defence Finance and Accounting Services (DFAS) Company Profile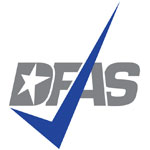 Profile:

The Defense Finance and Accounting Service (DFAS) is an agency of the United States Department of Defense (DOD), headquartered in Indianapolis, Indiana. DFAS was established in 1991 under the authority, direction, and control of the Under Secretary of Defense (Comptroller)/Chief Financial Officer to strengthen and reduce costs of financial management and operations within DOD. DFAS is responsible for all payments to servicemembers, employees, vendors, and contractors. It provides business intelligence and finance and accounting information to DOD decisionmakers. DFAS is also responsible for preparing annual financial statements and the consolidation, standardization, and modernization of finance and accounting requirements, functions, processes, operations, and systems for DOD.

A career at DFAS offers you an opportunity to work in an innovative, service-focused organization for the purpose of serving our nation and those who defend it. We are looking for people with integrity, professionalism and dedication to serving those who protect our nation.
Search Defence Finance and Accounting Services (DFAS) Jobs