Sherwin-Williams Company Profile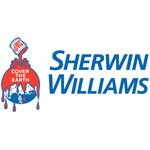 Profile:

Our mission began more than 150 years ago in 1866 when Henry Sherwin and Edward Williams founded the company in Cleveland, Ohio. The duo went on to shape an industry and create a global legacy. That legacy continues on today as we look ahead and continue to innovate our future. With stores, distribution centers and facilities spanning the globe, we're able to deliver the best in paints, coatings and related products to the world. From our headquarters to our 130 distribution centers and more than 4,000 retail locations, we continue to grow in new and exciting ways.

WE GIVE YOU THE BLANK SPACE TO CREATE YOUR CAREER

Here, there's no one path to success. We encourage our employees to bring their energy and unique perspective to each new day. We believe in careers that grow with you and open up new opportunities. With the support of a global team, you can innovate, grow and discover a career where you can Let Your Colors Show.
Search Sherwin-Williams Jobs